Mukilteo Music LLC Studio Policies 2022-2023 Tuition and Materials Fee
Tuition for the 2022-2023 school year is broken up into ten monthly payments from September-June.
$140 for 30 minutes (for young beginners only)
$170 for 45 minute lessons
$220/month for 60 minute lessons
$60/hour for adult drop in lessons ($45 for 45 minutes)
Sibling discount of $10 will apply to each additional sibling. First student pays regular price, but each additional student receives a $10 monthly discount
Materials and Recital Fee:
$150 per student divided into two monthly payments: $75 July 1 and $75 February. This fee covers music, printed materials, and recital expenses
Tuition is due by the first lesson of the month. Preferred payment is through Zelle, but checks are also accepted. My Zelle address is: mukilteomusicllc@gmail.com
Your tuition includes:
A) 33-35 scheduled private lessons (allowing for travel to music conferences and/0r potential illness)
B) 4 Group Lessons (aka "piano parties")
C) Customized curriculum: Researching and purchasing sheet music, incentive programs, creating games and activities, attending webinars and workshops on curriculum and pedagogy.
D) Festivals and Recitals: Planning and executing educational community events for your students to participate and perform in.
E) Subscriptions to websites such as "Tonara," "Piano Maestro" abd "Musicology"
In the event that you are no longer able to continue lessons, please give me 30 days notice.
2. Studio Calendar
The 2022-2023 studio schedule will begin September 12, 2022 and end June 16, 2023.
The studio will loosely follow Mukilteo school district calendar and will be closed during the following:
November 17-19 (Dress rehearsal and performances for musical I am performing in)
Thanksgiving Week Break: November 21-25
Winter Break: December 19- January 2
Mid-Winter Break: February 20-24
Spring Break: April 10-14
Martin Luther King Day January 16
Memorial Day: May 29th
Piano Celebrations are tentatively scheduled for December 9 and June 9
Piano Parties (group lessons) will be held on the following Fridays from 7-8:30 (students will have a 30 minute time slot with peer-matched groups):
Welcome Back party: September 30
Halloween Party: October 28
Valentine's Party: February 10
Spring Party: April 28
Festival Dates
Jazz Rags and Blues Festival: October 14-15 (concert October 14 masterclass and workshop is October 15)
Time Era Festival: November 6
Music Artistry Program will be held March 3-5 (students will be given a 15 minute time slot on one of these days)
Musicianship Festival: May 6
3. Missed Lessons:
Your tuition reserves a dedicated weekly spot for private lessons. As your tuition covers more than just your lesson spot, missed lessons are non-refundable.
The most effective way to deal with a week where you will not be available during your lesson spot, is to swap lessons with another family. This has been very effective for families who have school concerts or other events come up during their normal lesson spot.
Lessons are also available zoom for lessons that would otherwise be missed due to illness, snow days, traveling, sibling or parent illness, etc...
If I have a cancellation, I'm happy to offer up that spot to a family who was unable to attend a lesson. If you will miss your lesson please let me know as soon as possible so that I may make it available to others.
4. Practice Requirements:
Regular practice is essential for gaining proficiency on the piano. Students will be given a practice record to fill out weekly. Amount of time required will be adjusted to students' age and experience. (Ranging from 15-20 minutes for young beginners to 1 hour daily for high school students). Parental participation in and supervision of a daily practice routine is essential to student success.
5. Participation in Piano Celebrations, Piano Parties Music Artistry Program and Festivals
Biannual Piano Celebrations are important in helping students develop comfort and competence in playing in public as well as celebrating their success! Piano parties (group lessons) give opportunities to listen to and perform for peers, learn theory and note reading and gain motivation from being with other students. Festivals give students important growth opportunities through working with expert mentors, advancing through the state music literacy curriculum, and providing peer learning and socializing opportunities. All students should plan on participating in piano celebrations and piano parties, the Music Artistry Program and the Musicianship Festival. Additional festival participation can be determined based on family interest and teacher recommendation.
6. Summer Lessons
During the summer, lessons are more flexible so as to better accommodate your summer adventures. At the beginning of the summer we will count up the lessons that both student and teacher will be in town and create tuition for the summer. For example if the student and teacher are both available for 6 lessons during the summer, tuition would be the same as 1.5 months tuition. Summer camp is also a fun option for continuing piano study over the summer. Summer camp dates will be released in the spring.
7. Instrument:
An acoustic piano in good condition and regularly tuned is essential for developing good technique and ear sensitivity. Many of my students have acquired affordable used pianos for as little as $800 through Stage 7 Pianos in Kirkland. They even provide free pianos in good repair (customers pay to have it moved to their home). Many pianos can be found on the internet, and especially good deals for pianos where the families are moving or whose children are upgrading or graduating. Many parents worry about the investment and space requirements of an acoustic piano. Typically small upright acoustics are the same size as keyboards, simply taller. Also, good pianos tend to retain their value similar to a good car, and have great resell potential. Students are much more motivated to practice when they play on an instrument that sounds and feels good. If there are sufficient funds to make a long term investment, then either a tall upright piano such as a Yamaha U1 or a mid-sized grand piano (about 6'1) are recommended. If you have inherited an old family piano, contacting a good tuner, such as Turner Piano Tuning (425-348-9554) can help it make it's most beautiful sound.
8. Communication:
Please feel free to share with me any questions, concerns or ideas you may have. Together we can customize a fun and fulfilling musical education for your child.
Thank you for choosing me as your piano teacher. I'm looking forward to taking this musical journey together!
Signature:_____________________________ Date: _______________
I authorize Mukilteo Music to use photos of my child for marketing purposes (on the website, flyers or social media). No identifying information will be included with the photo.
Signature:_______________________________ Date: ______________
Piano Camp Days 1 and 2
Wednesday, July 17, 2019 by Valerie Gathright | Uncategorized
I love piano camp!
Such a great opportunity for group learning, outdoor games and sunshine!
I always like to spend the first hour of summer camp learning about a composer. This year we are studying Camille Saint-Saens. The first two days we spent creating a lapbook and listening to his music. The next two we will listen to all the movements of "Carnival of the Animals," read the poems that have been written and complete a coloring book.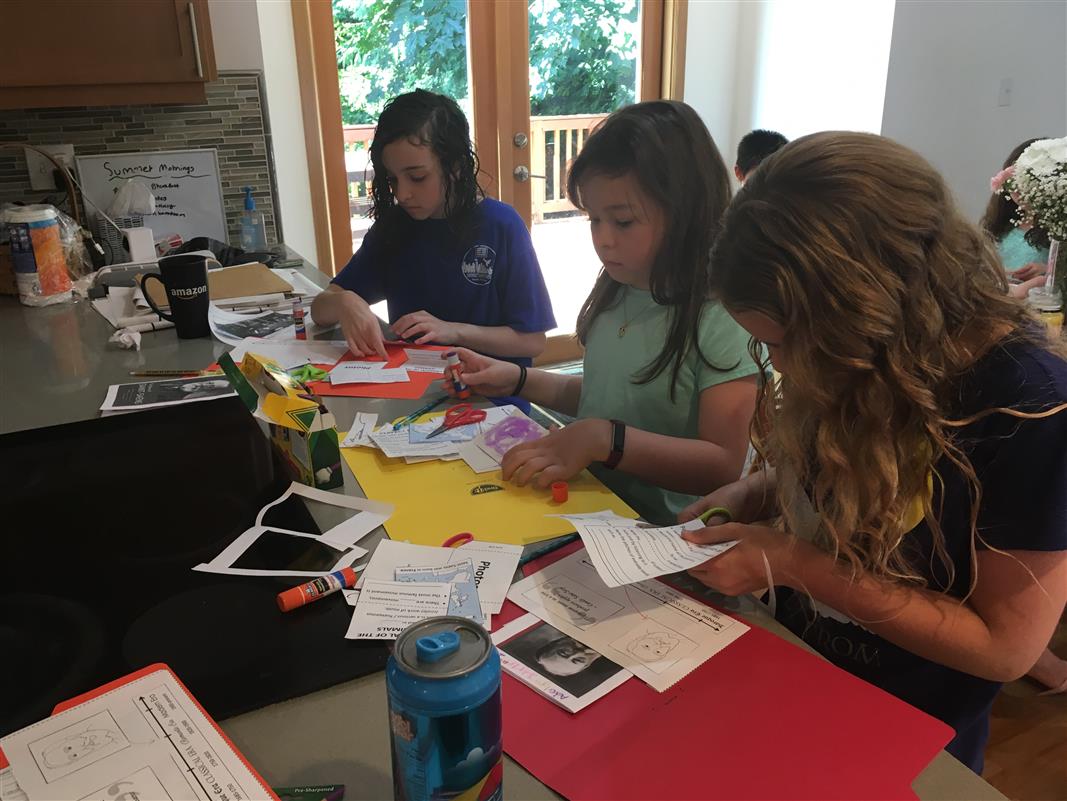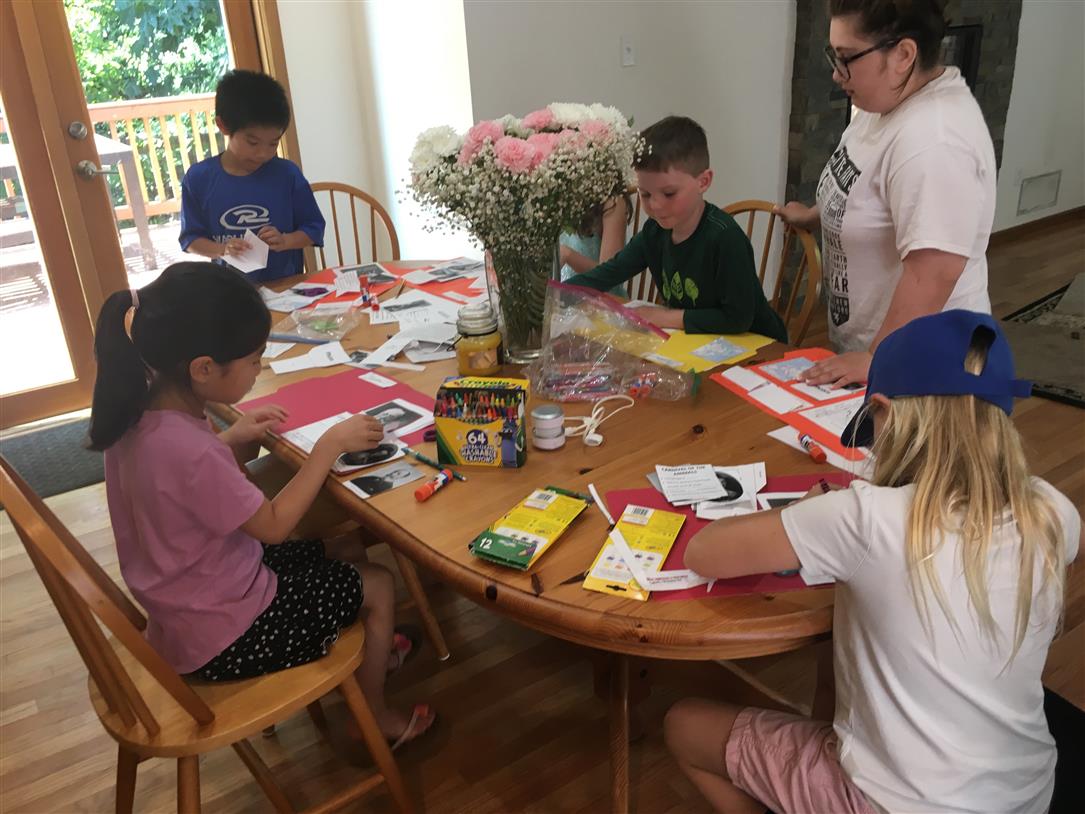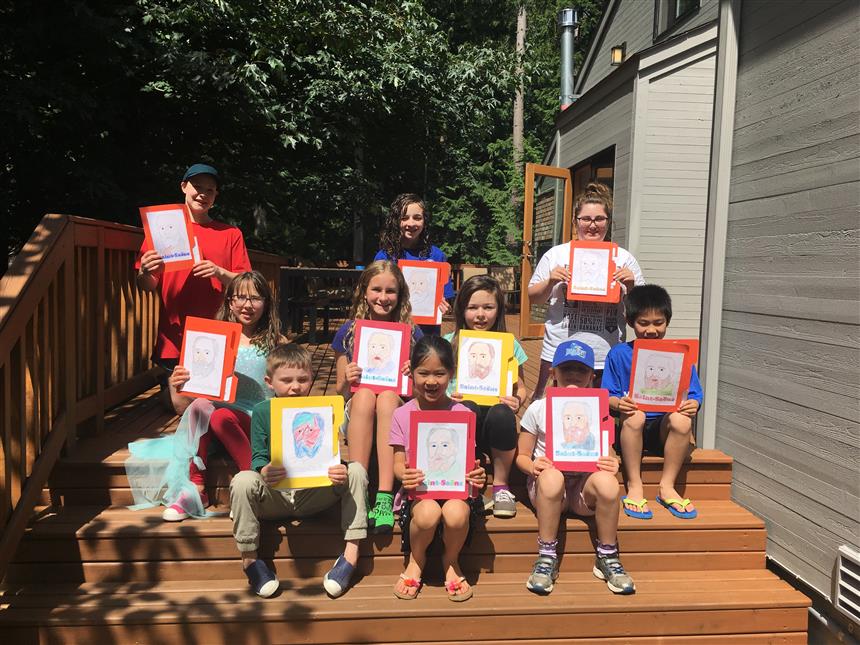 The second hour we divided into three groups. One group worked with me learning a trio at the piano, while the other groups did rhythm cups and theory games with my daughters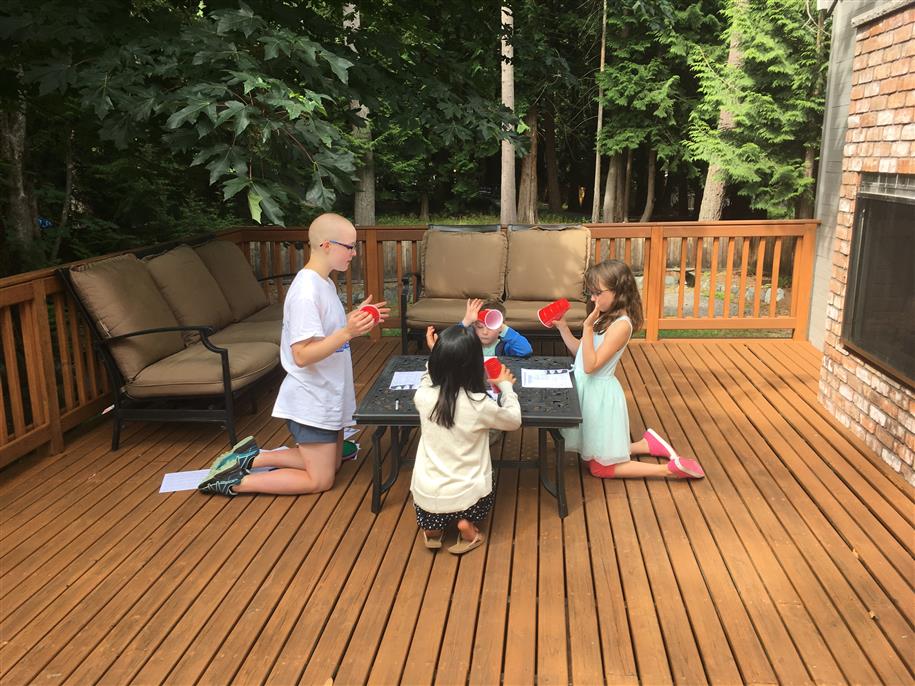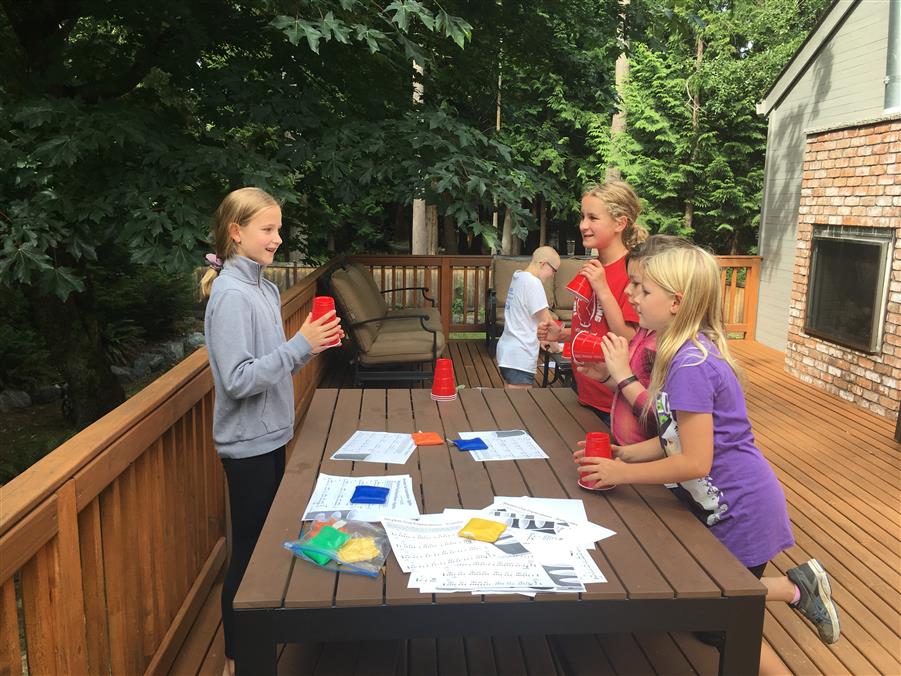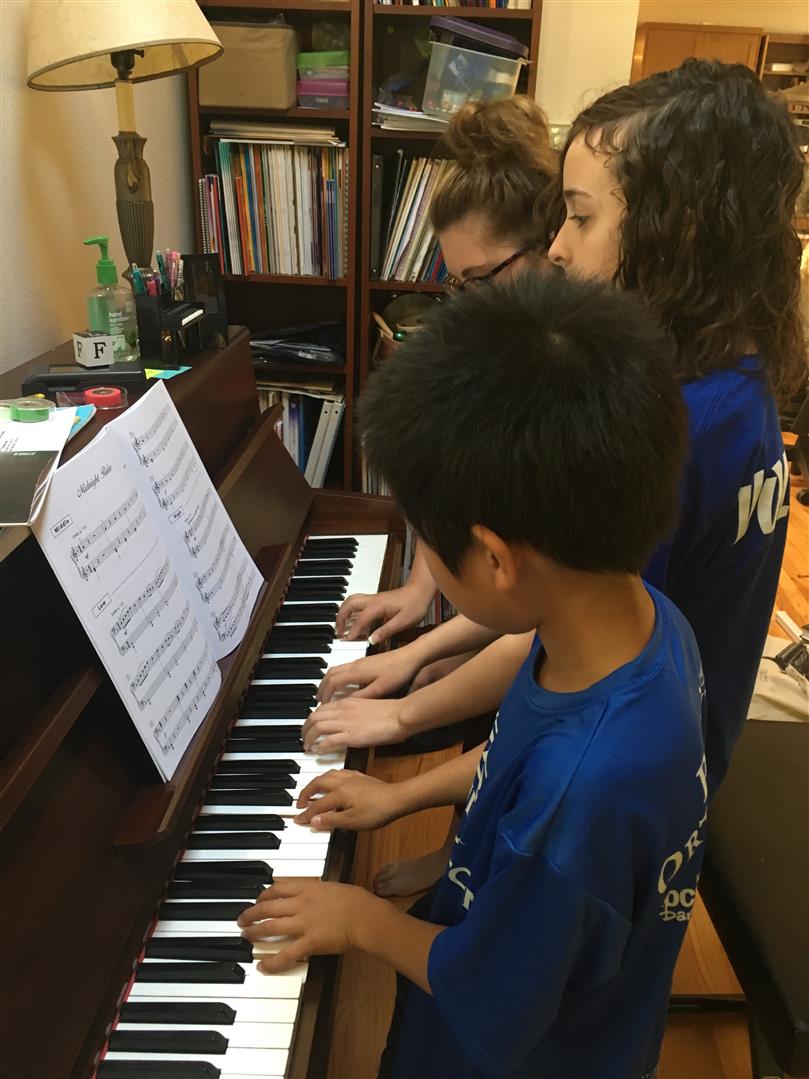 The Third hour is spent doing outdoor games. Day 1 we played note reading games with pool noodles, rings, bowling pins and buckets! Day 2 we focused on rhythm. Students would clap a rhythm, run through cones and clap it again. They also used magnetic notes to create their own rhythm combinations.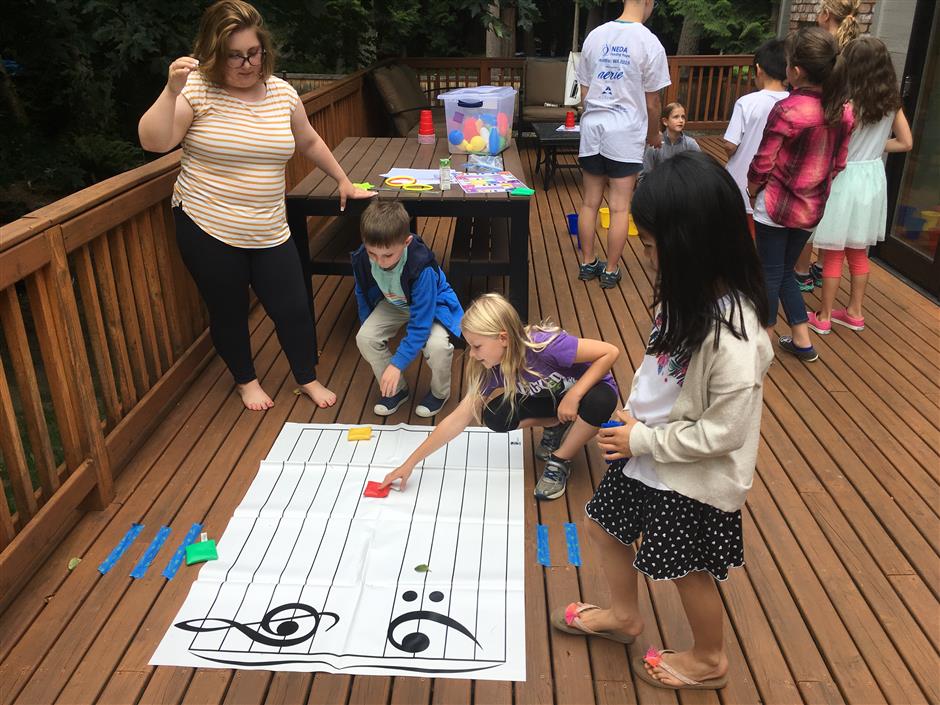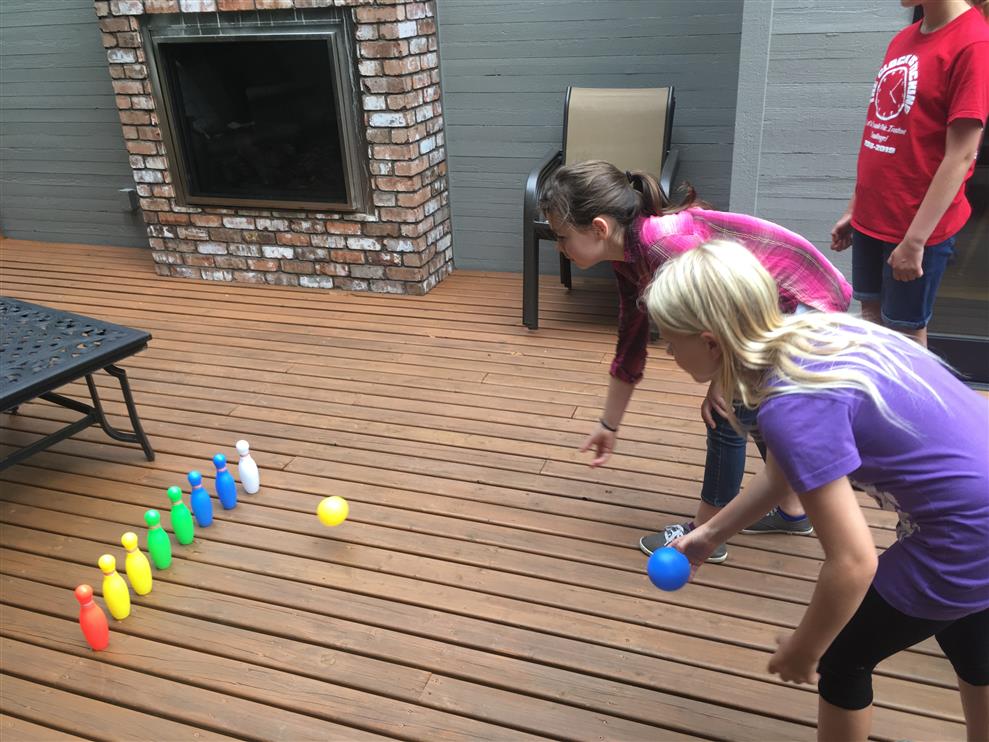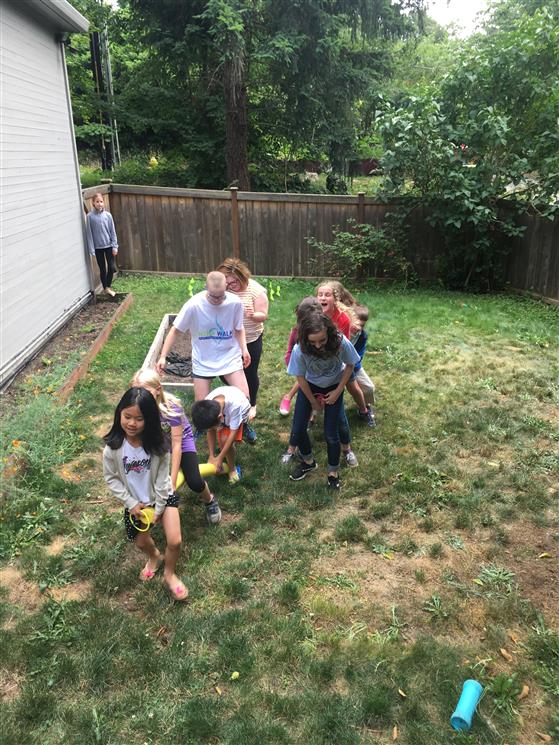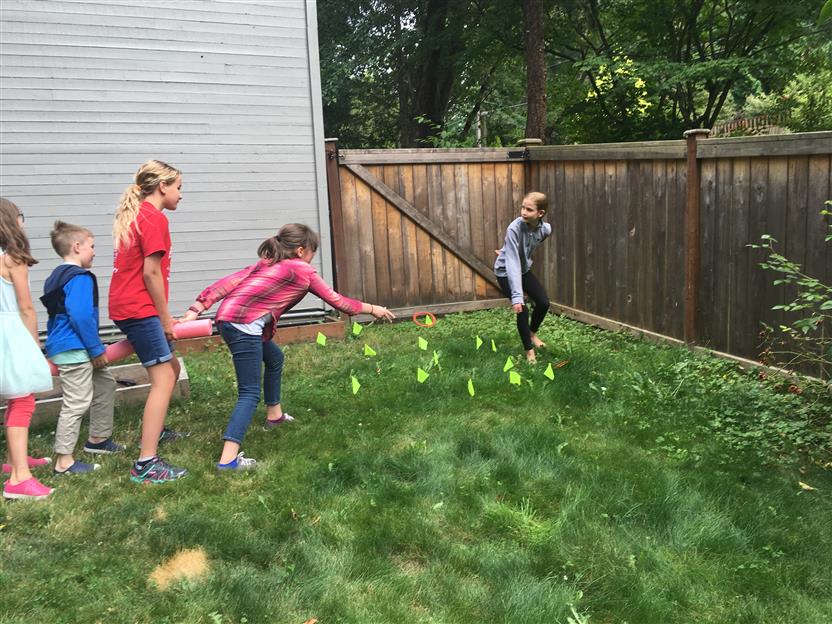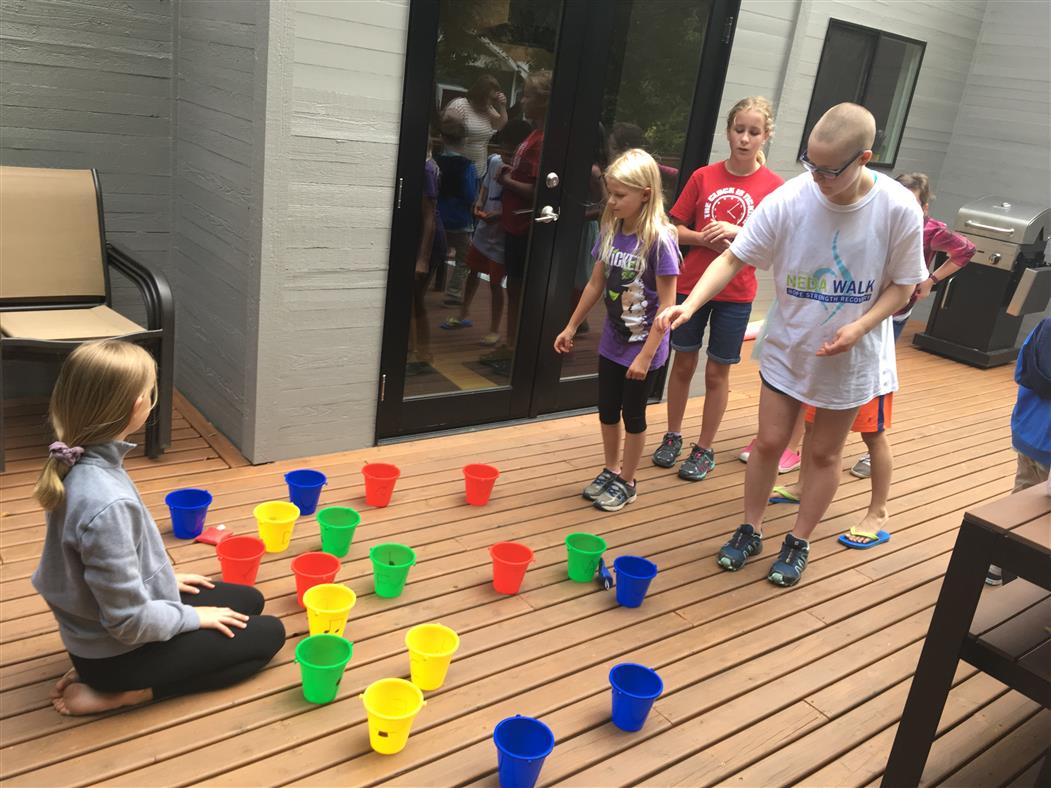 We also take a break every forty-five minutes for free play outside. Frisbee, jumprope, parachutes and hide and seek are favorites.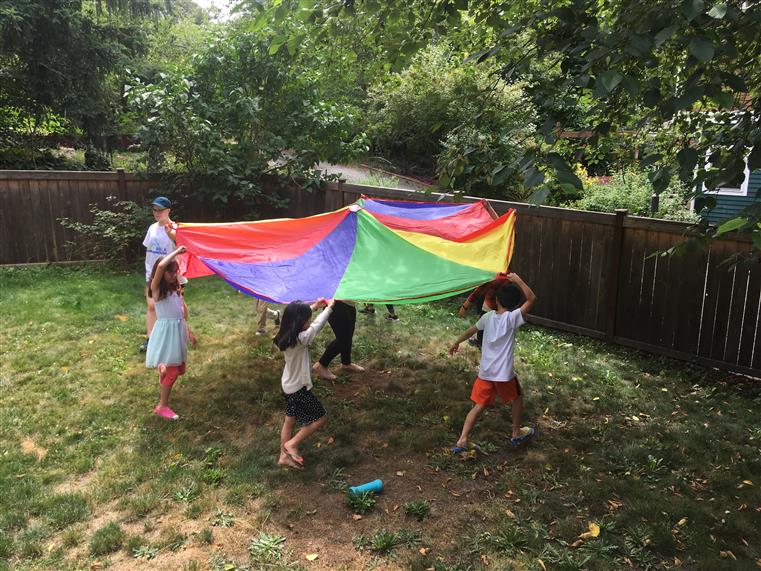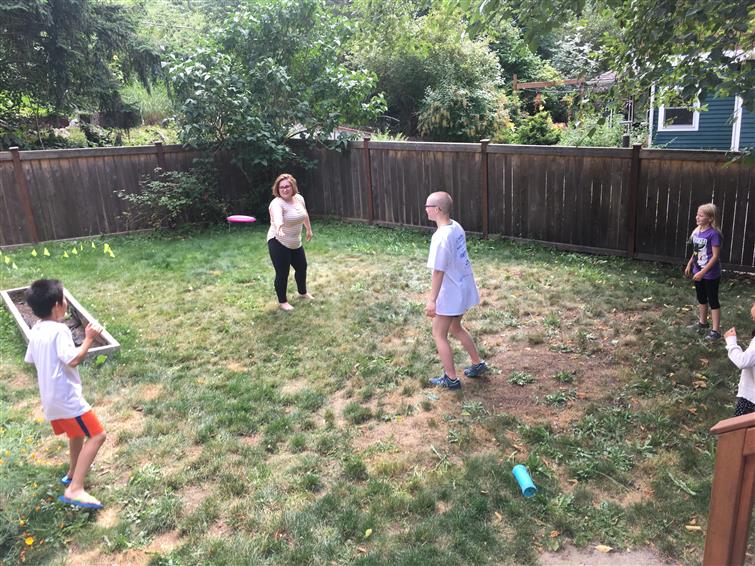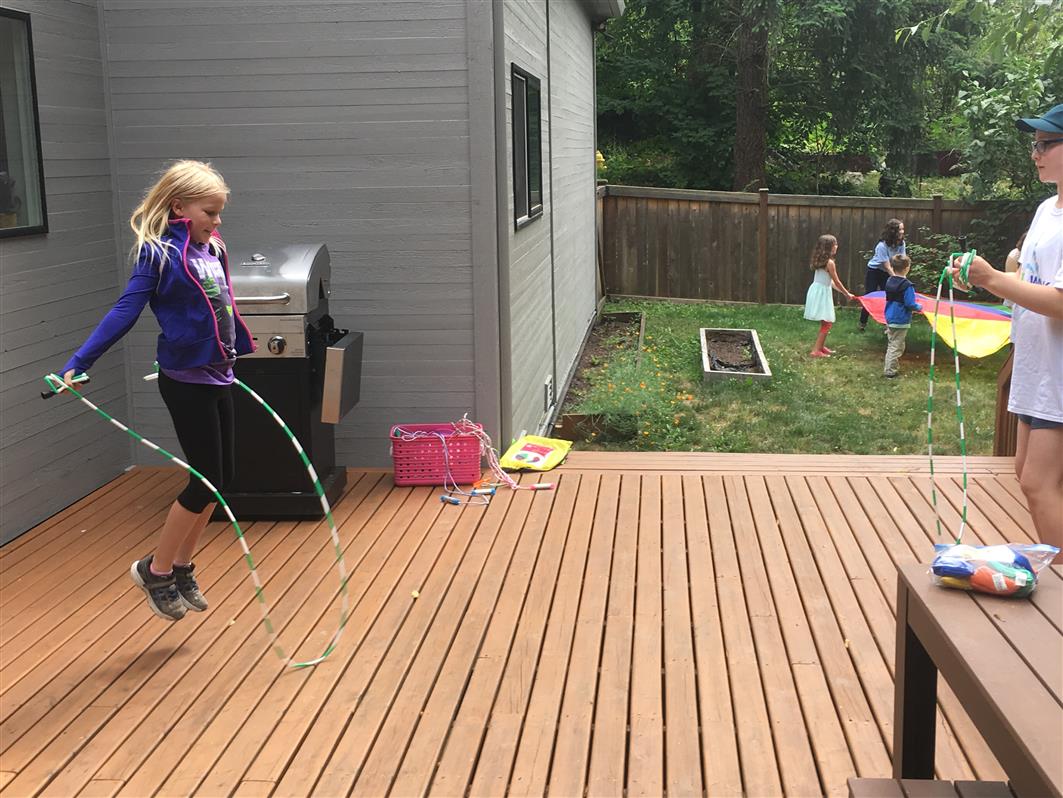 Finally, we end the day with Musical Chairs. I play ragtime on the piano and they run around the chairs outside.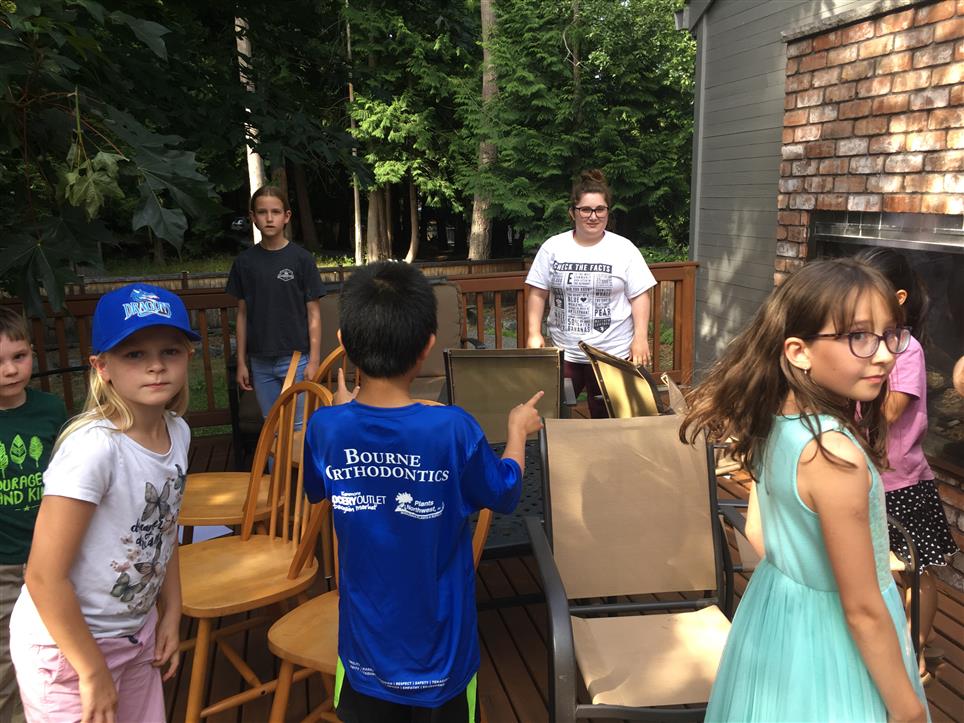 Looking forward to the next two days!!